Customer experience (CX) in the pharmaceutical industry is increasingly moving centre stage as companies look for practical ways to assess how well they are meeting the expectations of their stakeholders.
Chief among these are healthcare professionals (HCPs), but these are changing times for everyone as countries, customers, and companies continue to navigate their way out of the acute phase of the COVID-19 pandemic.
There has certainly been a course correction after the sharp pivot to digital in the spring of 2020 that pharma commercial operations were forced to make, just as we all were in our everyday lives. But things will never fully return to how they were pre-pandemic. Instead, the industry faces an environment that is still adjusting after the shocks that COVID-19 brought.
As it does so, the often-voiced aspiration for commercial organizations to be more customer-centric brings with it a clear need for metrics to determine if these best intentions are being transformed into reality.
In the past, research has shown that HCPs have a greater belief that a company understands both their challenges and those that their patients face when the CX they receive is excellent rather than poor.
CX can also drive clear business results for the leading companies, and HCPs will believe more in a company's products, have a better perception of a firm, and engage more with it, if their expectations are met or exceeded.
In this article, we took at "The State Of Customer Experience In The Global Pharmaceutical Industry, 2022: HCP Interactions report by DT Consulting, where they surveyed 6,270 HCPs across 14 countries and eight therapy areas between July and September 2022. The study was based on the respondents' two most recent interactions with a pharma company.
CX in pharma and its COVID-19 dip
The headline finding from our study, The State Of Customer Experience In The Global Pharmaceutical Industry, 2022: HCP Interactions, is that CX in pharma was ranked as good, with a CXQ score of 59, but good is really the least the industry should be aiming for. Added to which, the 2022 score is by no means a strong good score and finds the industry to be some way from achieving the excellence for which companies should be striving – a place where it is driving the business results mentioned before.
At a country level, you can see pharma companies providing customer experiences to HCPs that are fair to good (Figure 1). Notably, companies in China – at the time of our research still deep in a strict lockdown – provided HCPs with a customer experience that was on a par with Europe's two largest markets, despite Germany and France having largely ended their own COVID-19 restrictions by then.
Naturally, the scores are influenced to some extent by different nations' response styles and, because this is the first time one of our public CXQ reports has been run on a global level, it's not yet possible to look for country-level trends across the entire data set.  However, when we isolate the group of North America and Europe's five largest markets that our research has traditionally focused on, their combined CXQ score dipped by four percentage points during the pandemic before recovering in 2022 to the same CXQ score of 61 seen in 2018. Depending on how China's relaxation of its COVID-19 restrictions goes, there may be a similar COVID-19 bounce to pharma CX in that country.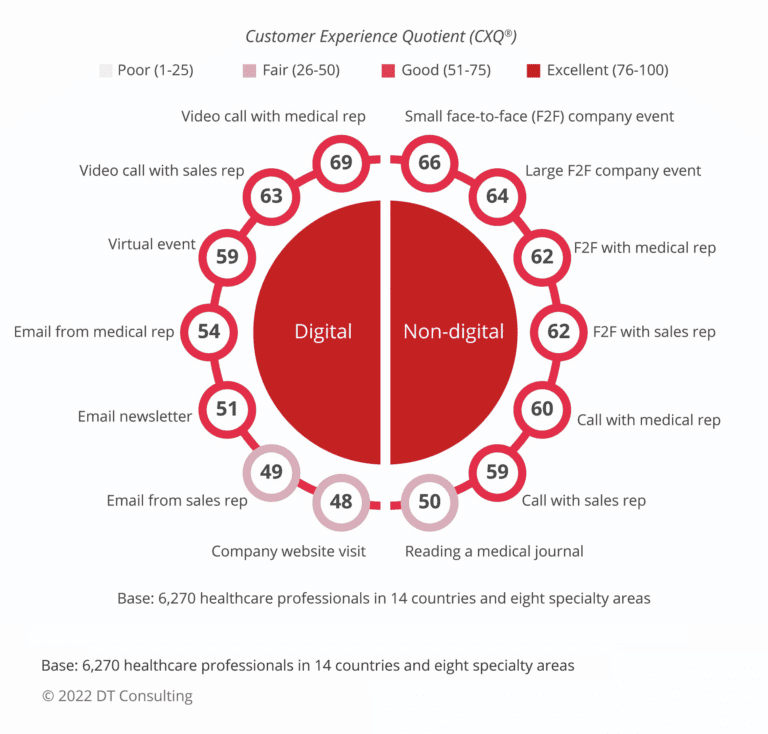 Post-pandemic customer engagement
Any company's customer experience journey is always going to be a multi-year endeavour. For those looking to make CX a focus in 2023, there's a need for a customer engagement framework that really focuses on choosing the right channel for the right purpose. A key part of that will require firms to reconcile their use of high-tech channels with those that are high touch.
Reps are still among the most important channels for pharma, with the use of video conferencing by medical reps achieving the highest score in our 2022 CXQ survey (Figure 2). But it should give companies pause for thought that a digital call with a sales rep is almost identical, in terms of the CX it delivers, to a traditional face-to-face call. Of course, all the different rep channels, from face-to-face to email communications, have different strengths and weaknesses, with companies' particular portfolio challenges further influencing the right mix for an individual company. However, to ensure that they're protecting the right experiences, firms should continue to develop their field force so that they can be enabled to embrace digital capabilities at an appropriate level and understand customer engagement models that keep evolving.
There will also be an increased place for the hybrid operating models that were born out of COVID-19 conditions, and these will need careful refinement for the industry's largely post-pandemic engagement. Getting this right will require pharma companies to offer a more personalised experience to their stakeholders, doubling down on the segmentation and targeting it requires. There's already considerable pressure for companies to get omnichannel orchestration right, and data and insights are a crucial way to guide channel and content mix decisions.